From formal to friendly, United WebWorks transforms a website for a local Savannah lawyer.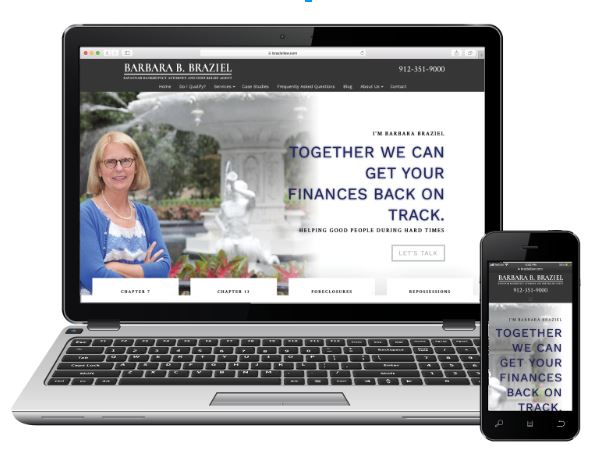 Websites are more than an information gateway. They tell the story of your business by speaking to your unique value and setting the bar of professionalism. When we met with Barbara Braziel, a Savannah bankruptcy lawyer, her website was not evoking feelings of warmth and trust that she needs to work with clients who experience financial struggles. While visitors had accurate information, they often left the site not understanding the extensive experience and non-judgmental consultative process Barbara Braziel's office provides.
During our planning meetings, we worked with several staff members, who are engaged with their customers and eager to help. They had a vast knowledge base concerning their industry that was simply not being put to use. This is not an uncommon pattern we see walking through our doors.
The United WebWorks staff set out to create a website for a local Savannah attorney that not only offered great information but in a way that was friendly, helpful and full of hope. People on the verge of bankruptcy often feel overwhelmed, stress and scared about the future. Changing colors, language and layout was just the tip of the iceberg for our marketing solution.
We also added social media channels and blogging to raise awareness of Barbara Braziel Law's offerings while keeping a voice that matches Barbara's warm and welcoming personality with helpful tidbits about some of life's hardest moments. (Not to mention great back-end goodies that boost search engine optimization and ease navigation).
The audience looking for Barbara is able to find her better and to understand the unique benefit of Barbara Braziel Law, knowledgeable and experienced staff dedicated to keeping their clients comfortable during a time of crisis.
Check out Barbara Braziel Law's new website here: https://www.braziellaw.com/
If you think you are in need of a new or better website, contact United WebWorks today. We make websites that fit your business perfectly and bring in the most customers to boost your bottom line. Give us a call for a free consultation and see what your website could be (912) 231-0016.