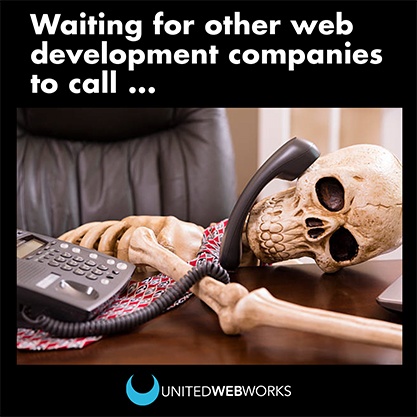 Let's face it.
Web developers get a bad rap — with unflattering extremes that include socially-challenged nerds living in their mom's basements or shiny corporate pencil pushers forcing the highest price with the lowest efforts. In a business environment that is saturated with digital marketing professionals, it's ironic that finding a good web developer can be harder than getting through a Friday work day before a three-day weekend.
So … how can you tell if a web developer is good or bad? Is your head spinning from complicated technical jargon? Are you generally unhappy with your web developer but you're not sure if you're overreacting? Here are eight telltale signs that you need to fire your web developer:
1. You can't talk to them
This doesn't mean having long-winded heart-to-hearts or even a language barrier. It's as simple as picking up the phone when you call and sitting through meetings that don't feel like you're being pushed out the door.
Sure, web developers have a lot to do, but so does your business. If you can't sit down and talk about the work, there is a problem. Good communication should not start three months into a contract; it should start as soon as you press send on that online contact form or make that first phone call. Web development is their business, and they should want to do business with you.
2. Questions are avoided or ignored
Why are you doing that? What do you suggest?
These are the two most common questions web developers face day in and day out. If your web developer isn't ready to answer these basic questions, kick them to the curb. They should be excited to get to share the strategy and methods they are using on your site. If you have questions, you deserve answers. By refusing your questions, your website could suffer in quality and you will lose your investment.
3. No goals
What kinds of questions does your web developer ask? Do they ask, "What colors would you like?" or "What type of font speaks to you?"
What many professionals in the digital industry fail to understand is that business owners do not want a website. They want their phone to ring. They want good cash flow. They want financial security.
Beyond the end-product of a website, your web developer should help you set goals with a return on your investment in mind. How long will this website take? What kind of ROI am I getting? How are you measuring my success? If your developer can't answer those questions, it's time to move on.
At United WebWorks, discovering our clients' business goals are essential to every project. If your web developer is only trying to get you a finished product, you should go elsewhere. Your website is the cornerstone of your marketing. It's the virtual office front that not only tells the story of your business but should actively capture leads. As your digital marketing agency, we're not just a vendor you're throwing money at; United WebWorks becomes your success partner, an extension of your team.
4. No contract
We're going to place No. 4 here and quickly back away. Contracts may seem cold and impersonal, but they are a natural part of any business transaction. Contracts are especially essential with variable services such as website development. It's important that you and your developer are on the same page with expectations on design, functionality, cost and timelines. If there is no contract, agreement or other binding document, don't walk — run! Both parties can become blindsided without a contract.
5. Bad value
A website should be more than just a good financial investment. It also should be a good value on your time and effort. If you are spending as much time on the phone or doing research for your website as you would if you made the website yourself, you've made a bad choice. Time and effort is always needed to make a good website, but if your to-do list becomes really burdened there is a problem. Ask your web developer exactly what will be expected of you early on in the process. This typically includes a few meetings and the sharing of some content or photos.
6. Deadlines get pushed and pushed and pushed
Sometimes there is a real reason to push deadlines back — but in the professional world this often leads to procrastination. Don't allow your business to be placed on the backburner. You are a paying customer and deserve the time and effort for which you paid. If your final launch deadline is missed, it's worth a conversation. If it's missed a few times, please refer to No. 4 on why you need a contract.
7. Just a bad site
Has your web developer created a sitemap? Are all of the web mock-ups filled with neon pink and Comic Sans? Grey font on black background? Maybe every time you open a new page you get rickrolled? If your site is laughably terrible, you need to jump ship ASAP. Either your developer is horrible at their job or they think you are a joke. Either way, it's time to look elsewhere.
8. No relationship
Do you find yourself dreading every meeting or ignoring phone calls with your web developer? Maybe you just don't get along? Maybe they are too business-like and skip the small talk?
No matter.
If you don't have a good relationship with your web developer, move on. You deserve to leave every meeting smiling, not just from the great service and amazing website investment, but also because you like spending that hour with your web developer.
Wouldn't it be nice if you actually liked going to meetings?
If you found yourself nodding along, give United WebWorks a call. We can make sure you never need to find another web developer again. With a people-first attitude and a revenue-driven strategy, your website design and development can bring you more business without being a pain. Give us a call at (912) 231-0016.