United WebWorks Web Development Savannah
Shannon B. Liles is the Manager of Yellow Cab of Savannah and driver of car #5. He's got Guy Fieri hair and a flair for the taxicab business in Savannah. Like any business owner, he wants to grow in a sustainable and healthy way, identifying and overcoming any obstacles to that growth. And recently he astutely identified a major obstacle to his intentions for Yellow Cab of Savannah.
Savannah Yellow Cab's old website wasn't pulling in the fares like a number one company's should, so Mr. Liles opened up a conversation with United WebWorks about his goal of running the number one cab company in the Savannah market, and the role his website should play. From the very beginning, he realized that a climb to top spot wasn't as simple as publishing a website and hoping for the best.
It was time to freshen up or replace the old savannahyellowcab.com site. When we had a look at the home page we immediately saw that Shannon was right- its appearance was rather dated with some definite design issues. And it didn't really pass the "ease of use" test.
Former Home Page, above the fold: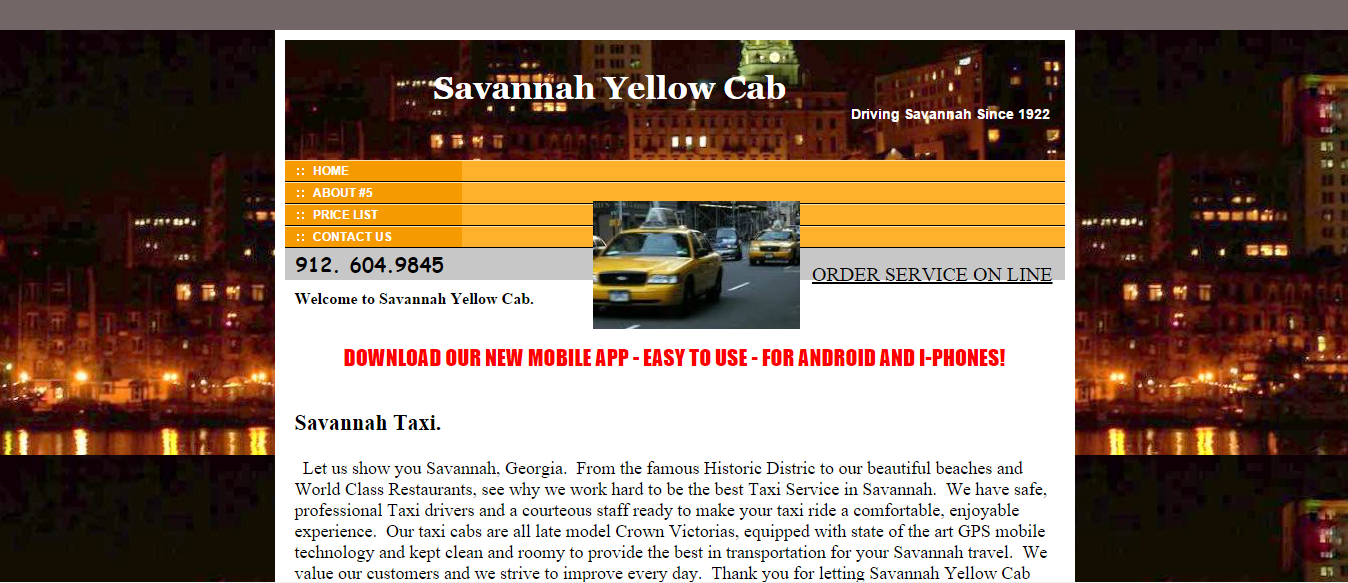 While it does a good job of highlighting Yellow Cab's name and phone number and encourages the viewer to download the app, it has a decidedly homely ambience, including a few minor errors that could distract the reader from taking action (ordering a cab ride) from this screen.
One of the first things you see is a heading that shouts (in red, no less) for the reader to download a Yellow Cab app. Two problems. One, the red headline is not clickable. Two, if the reader is an infrequent or one-time visitor to Savannah, they most likely don't need or want another app installed on their already chock-full phone. "I'll download the app AFTER I've had a ride and decide that I would use Yellow Cab again," a first customer would more likely say. On the new homepage, we offer the app below the fold.
Speaking of below the fold, things don't improve much for the old site. Object clickability is haphazard. There are some discounts mentioned, like an "internet discount" (just ask…) and a cash discount that you can hunt for on the looooong chart behind the "price list" heading. Since price is probably what a first-timer is looking for, why not put it up front and center with accurate and speedy access to an exact dollar amount?
A couple of other headings that should be clickable in fact aren't linked to anything. We all agreed that a complete re-do was needed, now that Yellow Cab wanted to go big with the best website in town.
Our first question: does this website do the job Yellow Cab is paying for it to do, namely, give potential riders a fast, easy way to book a cab from points A to B with a ballpark idea of the fare and time it will take?
Answer: it could do a lot better! In other words, it's current iteration wasn't enough to give Shannon Liles and Yellow Cab MORE BUSINESS!
United Webworks got together with Savannah Yellow Cab to think seriously about shoring up their leaky site by starting inside the mind of their typical customer, and offering what the competition doesn't. The design and function of the new site was driven by a simple idea: Yellow Cab wants more business! And we could definitely help leverage their Savannah website to do exactly that one job. Find out more about Web Development Savannah
So you're at the Savannah-Hilton Head airport and need to get to the Holiday Inn Express in downtown Savannah. If you planned ahead, you booked a cab a week ago online. Your search returned

http://www.yellowcabsavannah.com/ A click leads you here: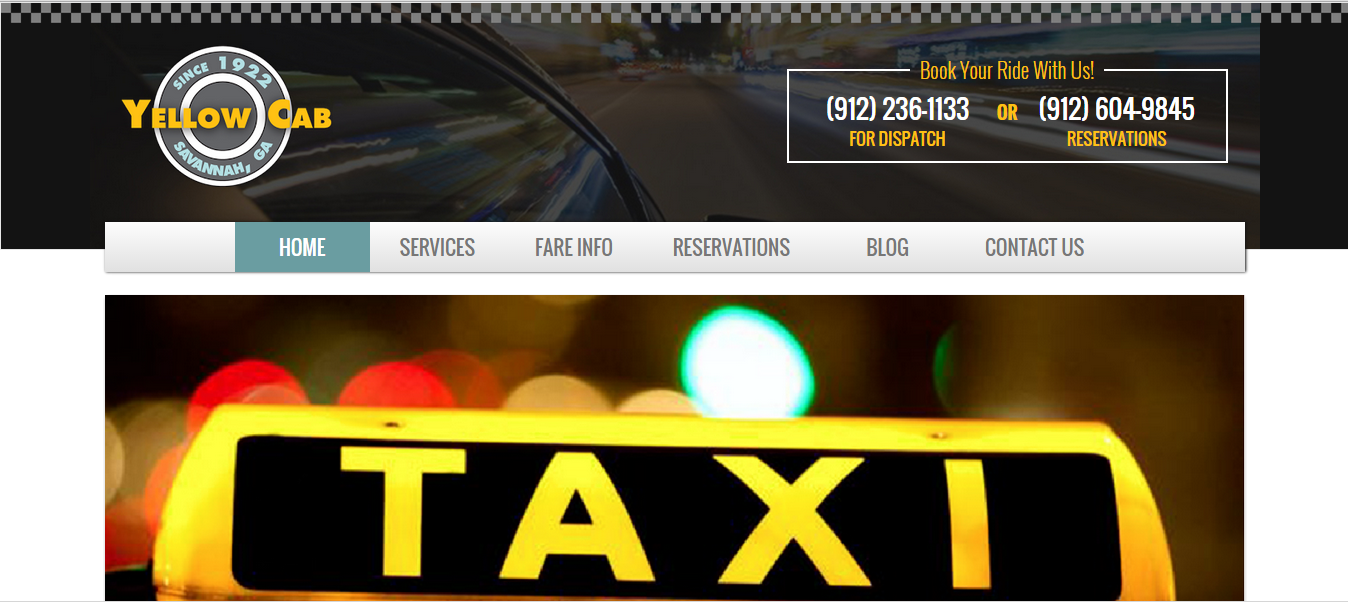 Clean, organized, professional-looking design-

CHECK

Phone numbers-

CHECK

Fare info and Reservations link prominent-

CHECK

Click on Fare Info and YES! A Fare Calculator!
No scrolling down a huge list of destinations I don't care about-

CHECK
Most internet users have seen Google Maps before and understand how to use this instantaneously.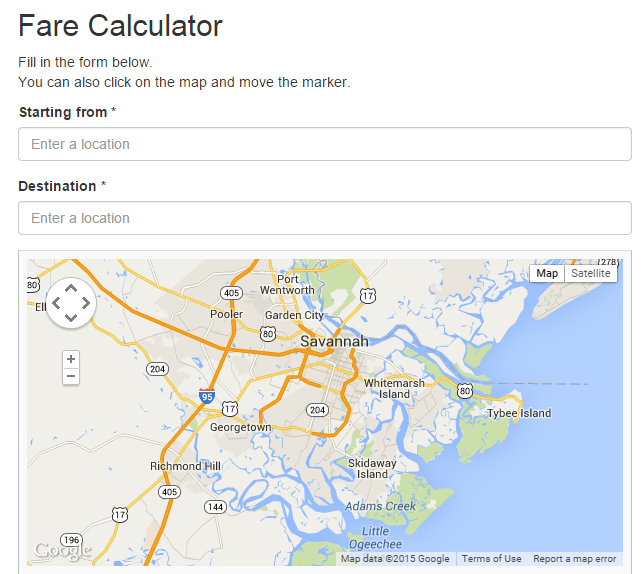 Starting from the Airport, so you type in "Air…" and get Savannah/Hilton Head Airport
Type in "Hol…" and there it is autocompleted: Holiday Inn Express Savannah- Historic District
Click on the "Get Directions" button and get
An opportunity to change the destination by dragging the pushpins.
...Or of course you can also call Yellow Cab directly
...Or download the app is you are going to make this journey more than once!
User Friendly
The graphics are the first thing you notice about the new home page. You definitely know you're in the right place with the cab-top sign hollering "TAXI!" As you scroll down it's clear that there was an intention to address the short list of reasons the viewer clicked here. You've seen (and been bored by) websites that offer pages of information that are important to the publisher, but to the audience? Not so much.
Eye catching design
Simple, good use of open space and contrast, and best of all, it's organized.
Optimized for Mobile
Of course there's an app you can download for Yellow Cab Savannah, but the full website also looks great on your phone (try it!).
Overall, customers just feel better interacting with Yellow Cab's new website. You've been conducting business under a rock if you don't think that's a competitive edge these days. Our advice for any business with a website (which should be all of you readers!) is to consider the emotions of the viewer.
One of the things Shannon likes about his so-much-better online presence is the opportunity to blog. We definitely recommend it because Google loves good, relevant content that is pertinent to your business and possibly helpful to a searcher. Google is serious about returning the best clicks for searchers, which as you can imagine can be difficult. SERP one (Search Engine Result Page) must provide something of value to the user or, well, there are other search engines out there that are gunning for Google.
Content is a great way to meet Google's criteria for what shows up on SERP one.
Behind the scenes, Shannon says that it's much easier to offer exact fares and discounts with the new setup. Although there's still not a lot of advance bookings from the new website, he has gotten calls from site visitors. It's can't be more simple and intuitive to tap the phone number on your phone screen and talk to a dispatcher.
Yellow Cab knows that they have now caught up with the present by integrating the ease of mobile phone booking in their business plan.
We asked Shannon if he had some love for his favorite web development Savannah company. Here's what he said:
"It was a great experience, we felt comfortable and in good hands from very beginning. I'm very impressed and really appreciative that United WebWorks people were always available to talk things through."
Web Development Savannah is much more than a slick website. Aside from all the cool design and scintillating content, we know what you want is MORE BUSINESS! That's what we want for your business too. Call or click today: United Webworks Web Development Savannah 912-231-0016