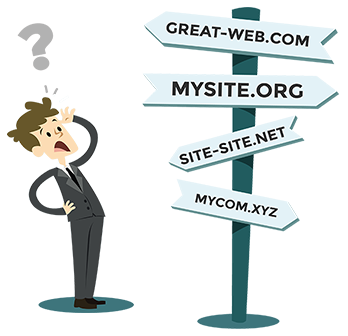 Your Website Address, For the Leads!
About domain names… Some people have their own domains that seem so real, but they're just inside their heads. They get to be king or queen of their private domain, but since its imaginary it doesn't do too much for their business.
Perhaps your domain is your business. Whatever you say goes, boss. It's fun to be the potentate of your own office until you realized you can't keep your employees longer than a few months.
Even though the domains we're talking about are invisible and you get to do whatever you want in them, they aren't just imaginary figments or political arrangements. No, they are online domains.
What we're talking about is a virtual space on the internet that is reserved for you, a principality marked out in megabytes and Kilohertz. This domain is the place where your customers get to know you, and ultimately decide to buy from you.
Why is your domain name important? Because a long, forgettable or irrelevant domain name makes you unfriendly. Your domain name represents you to world!
Think of your domain name as a kind of copyright. Each name can only be used once - you can imagine the confusion if more than one website used the same name.
When you purchase a domain name, you're buying an address to use where people will find your website, not a website or hosting services, although website developers and hosting companies frequently offer domain names as part of a package deal.
Buying A Domain Name
You buy a domain name from a domain name registrar or a reseller which lets you use the name exclusively for a period of one to ten years. You must keep paying the renewal fee when it is due, otherwise, it becomes available for sale once again. There is an extra small fee if you don't want your name listed in the WHOIS database, which is an online public record of registered domain owners. People sometimes opt out for various reasons, however not having your name listed on WHOIS may appear suspicious.
Normally, domain names cost anywhere from $10 to $25 per year, although Single word generic domains, like jewelry.com, have been in use for a long time and not usually available. When they are for sale, they're extremely expensive.
If you discover that someone already registered the domain name that you really want, but they are not using it, check the WHOIS database to find the contact information for the person who registered the name and then ask them if they are willing to sell it to you.
How Do I Find Out If A Domain Name Is Already Taken?
With hundreds of millions domain names already registered, it's often difficult to find one that someone does not already own. When you are ready to buy a domain name, the domain name registrar will tell you if the name is available. If it isn't, they may suggest the same name with a different extension, such as .us instead of .com, or they suggest a variation of the name you wanted. Simply typing the name in Google to see if there is a website already there does not tell you if it is available or not, since people often buy domain names and just hold on to them, without using them.
Using one of the new domain name extensions, like .biz, is an easy way to get a better domain name than you would if you limit yourself to a domain with a .com extension. Consumers are more familiar with .com extensions, so if can get one, do so, but if you cannot, don't stress over it.
Brainstorm The Perfect Domain Name
Try to come up with the shortest, easy-to-spell, memorable domain name that matches the name of your business as closely as possible. And don't forget that there are other extensions (the part after the dot) you can use.
If you go by ABC Widgets, you might be the only business with that name in your town, but other companies with the same name may have already registered the domain name with the .com, .net and .biz extensions. If you are a local business, try incorporating your location in the domain name, such as Anytown Widgets. You could also try a descriptive domain name like "bestwidgets."
Be Cautious
You can find perfect domain name, it just might take a little effort, so don't grab the first just-OK name that is available. Once you find the most suitable available domain name, check for spelling errors by asking a friend to type it out just like they would in a browser.
Scrutinize the domain as it would appear in a browser, all lower case letters with no spaces. Don't make the mistake of unintentional silliness when the spaces are removed.
Make your place of business on the internet a snappy, attractive place starting with the domain name!