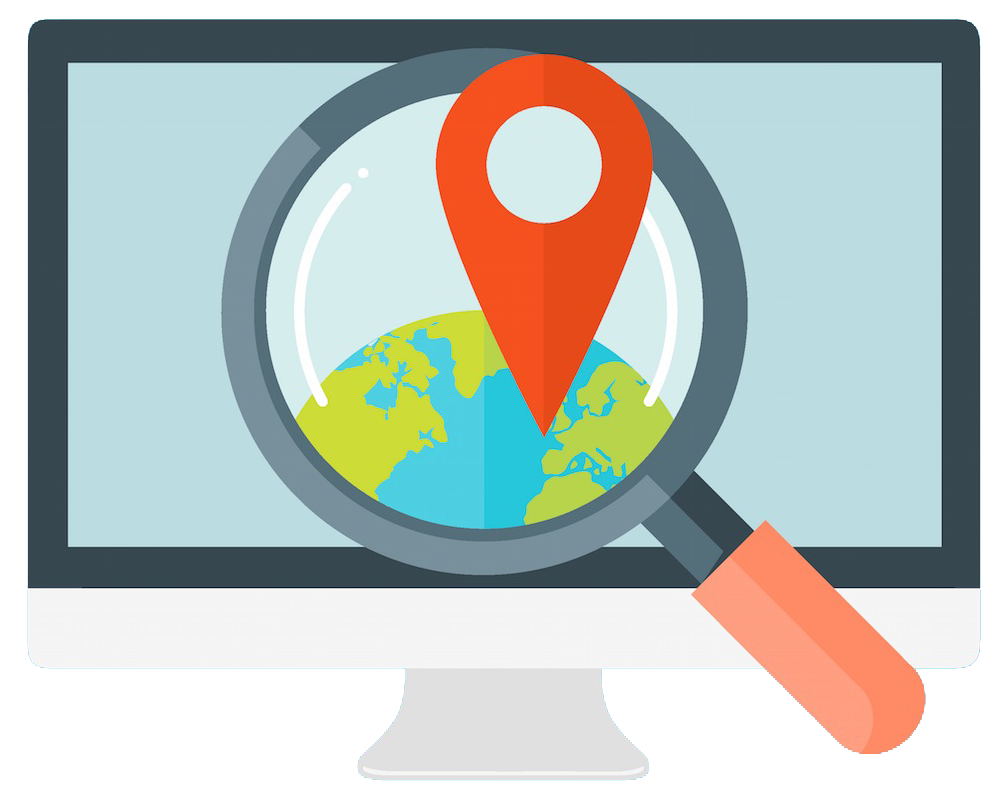 Your awesome website makes you available to the entire planet!
"But," you're thinking, "If only the locals knew about me!"
How to expand your local reach
Unless you're a retirement home or your brick-and-mortar shop is located across the street from one, we're guessing that you aren't actively pursuing octogenarians for new business. My 81 year old father still reaches for the yellow pages when he's fed up with the new girl at his haircut place. Yes, an actual book with pages that contain ads and listings for businesses in a defined nearby area. Those alphabetical listings are the reason for company names like Aardvark Plumbing and AAAA Bail Bonds. He scans through the entries, and when he finds one he likes (often the cheapest, or one with the best coupons), he drives over there to give it a try.
This way of passive advertising is going away. Sooner or later, you must take on the task of understanding and leveraging the magic of internet search engines. We often think of global reach when we think about the ubiquity of the World Wide Web, but did you know that you are few simple steps away from capturing far more of your local market with your friend the Search Engine?
The Yellow Pages have moved online, where the competition for eyeballs is intense. By far and away Google is winning the battle of local SEO (Search Engine Optimization) because of their tireless attention to improving the relevance of what listings a searcher sees when she hits the "enter" key after typing in even the vaguest of queries. Let's take a look at how you can make your business light up like Las Vegas when someone is looking for your product or service in their own backyard.
1) Always NAP the same way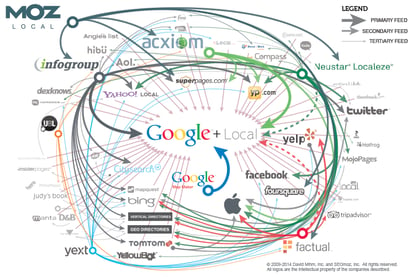 Take your NAP seriously (Name, Address, Phone number). For local exposure to work well, you need ONE set of location information. ONE name, Address and Phone number to rule them all. The reason for this is that the dozens of entities that have ever listed your info all refer to each other in a complicated ecosystem of data. Our old pal Yellow Pages refers to Yelp which refers to Manta which asks Google, whose latest NAP on you is cross-referenced to other data aggregators like Factual or Citysearch or, yes, even Angie's List. If you have more than one version of your contact info, your business gets diffused from one into many separate and probably inactive ones- Bad for search returns
2) Stake your Virtual Claim
Ever wonder how your competitors got into the "Google Places" box on the search returns page?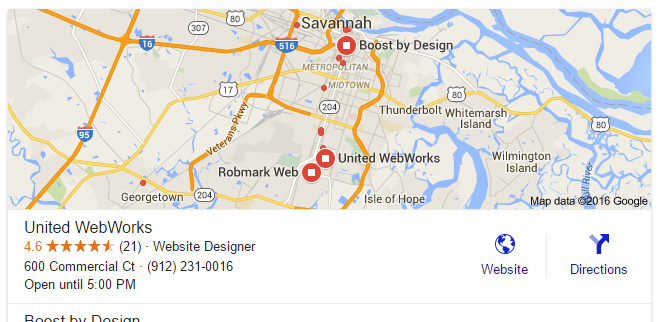 It's actually known as "Google My Business" now. Here's the key to unlock your place on the map: Google My Business. Once you follow the steps, you're registered with Google and eligible for appearance in the local returns and the map.
There are gigabytes of other unclaimed local SEO space on the web that you need to leave your calling card. The problem is knowing where to start. Here's a another excellent tool to get you started. Two or three screens in, you'll see a graph showing your "grade" when it comes to the completeness of your profiles in all the popular online sites where people might try to find you.
We got an 82%. Not bad, but we've got a little work to do. It's pretty easy to correct or add data like photos or categories or your web address in sources like Superpages, Best of the Web,Bing and Acxiom. Give Moz's listing checker to see your grade.
3) Add Some Local SEO Love
What we mean here is reviews. While it can be an ethically tricky business to acquire positive reviews from customers, it's worth the moral ambiguity. Are you comfortable with at least soliciting reviews? How about offering a discount coupon or a quid pro quo review? Here are a few ideas for harnessing the power of positivity:
Make sure you are registered and active on popular review sites like Yelp, Yahoo local, LinkedIn, Trustpilot (whose stars show up on Google SERPs)
Make it easy for customers to review you. Add a link, especially on your mobile iteration, send an email with everything but their words of praise, or even break out the good old comment card
Incentivize carefully. Offer a coffee shop voucher, or have a door prize drawing from the pile of reviews you've received. And be sure to thank all your reviewers, good and bad.
4) Grow your Pile of Citations (the good kind, not parking violations)
Here are a few ideas to get you started. There are more, but we'll stick with locally-focused ones for this article:
Sponsor a Meetup relevant to your industry. Provide lunch or drinks, and get a link to your website on the meetup site.

Publish a resource for locals on a topic pertinent to a special event like St. Patrick's Day in Savannah, ongoing commerce or networking in your city. Reach out to the hometown press outlets to publicize your new resource which simply compiles publicly available information in one place.

Register with a press release request service to regularly publish the latest trends and topics in your industry.

Do an AMA on Reddit/subreddit specific to your enterprise and publicize it wherever you can.

Do interviews and guest blogging on other websites

Partner with other local companies to post mutually beneficial links
5) Become the Vortex of Click-Through
Improving your Click Through Rate (CTR) can be a huge boost that builds on itself. If you can get searchers to click through to your landing page more than the next guy, your ranking will go up. And sometimes it's simply because the clicker has spotted your location in the snippet. In addition to adding your city or locale, you can increase your CTR. For example, United WebWorks appears thusly:

Think through your landing page title carefully (the landing page being the target of a click on the link in the search returns) . The first two or three words give you those precious milliseconds in which a searcher decides to click or not to click. Include geographical info, like your city or county. Use alternative characters savers like pipes (|), slashes and ampersands (&) to save space. Finally, REALLY think through your snippet, the short paragraph of text. You have less than 156 characters to attract a clicker, so make it count.

Is there more you can do to exploit the tools for local search? Oh yes, there is! United WebWorks has been helping all kinds of businesses capitalize on the potential of local SEO and search results in Savannah GA and beyond. Contact us today to see what we can do for you!