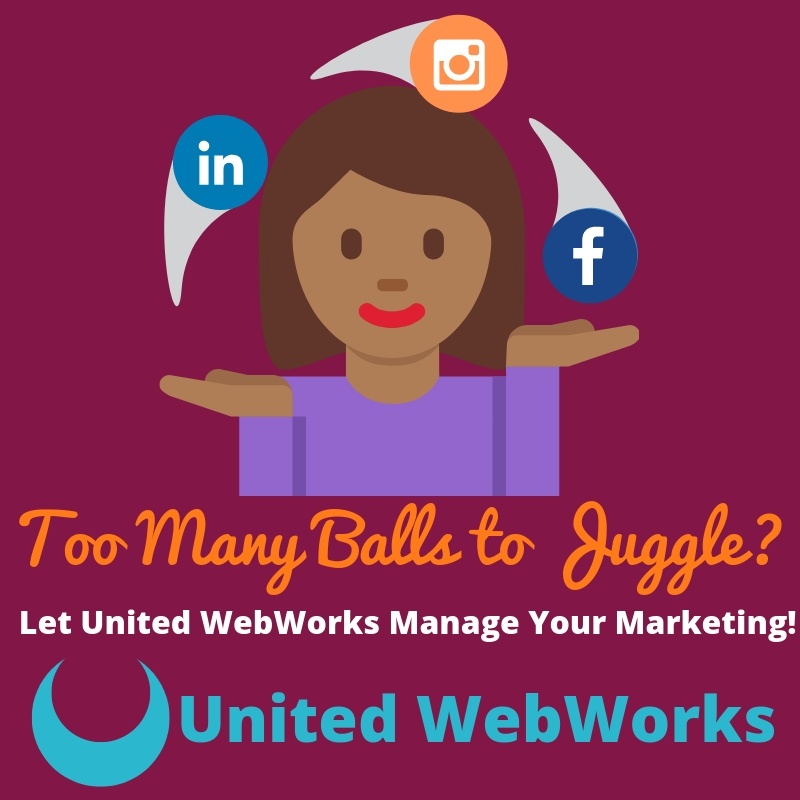 Now what? You forgot the password to one of your social media accounts or maybe that new employee duplicated your account when you already had an old one. Either way, you now ended up with two Facebook pages. Or three Twitters. Or an Instagram for both your downtown and corporate offices. Looks like you need to merge your accounts.
Having multiple accounts can be a major problem for employees and customers, especially on commonly searched platforms like Facebook, Google My Business, Instagram and LinkedIn. With repetitive or conflicting information online, your customers will end up confused. Your employees may send great reviews or likes to the wrong place. Having a sharp, high quality presence on social media is imperative and duplicate accounts are a big no-no. But no worries, United WebWorks is here to help.Here's some help on merging your social media accounts or make corrections:
Facebook
Facebook is currently in the midst of cracking down on business pages. They know that customers rely on Facebook for accurate, reliable and fun information that helps them connect with their community. According to Facebook, over 70 million businesses have pages dedicated to them.
If you have multiple Facebook pages, you can merge them as long as you are an administrator on both pages and it fits Facebook's requirements for merging. If those requirements are met, you simply visit facebook.com/pages/merge and request the merge. This will transfer your followers to a single page, making one central place for your Facebook activity.
Instagram
It is not currently possible to merge Instagram accounts; however, it is possible to get your followers all into one place. After you've decided which account to make official, you can alert your followers that the main page will be continuing to post your amazing content and they should follow that account. You also can request to follow the people following your secondary accounts from your main account. Although this may take a little more time and attention, it'll be worth it. Instagram is the top social media platform for engagement according to Forbes Magazine.
LinkedIn
The essential platform for any B2B company or any referral-dependent industry is LinkedIn. Your posts can garner new connections and loyal patrons. If you have two LinkedIn pages, you are missing out on the crucial conversation and exposure LinkedIn is made for. LinkedIn currently does not offer a do-it-yourself solution to merging pages, but you can request a merge by contacting LinkedIn and requesting the change.
Google My Business
Google My Business (GMB) is an essential part of being found online and good SEO. GMB is a feature of Google search that makes your business details pop up to the right side of the search screen when a searcher inputs a phrase specific to our company. You can remove duplicates or update your information in your Google Business Account settings or click on the GMB support page.
Twitter
Twitter currently does not allow you to merge two accounts. To help migrate your followers, send out a tweet (or tweet stream) to announce that your accounts are merging into a new one. Give the account name that you wish the followers of your secondary accounts to follow. Solidify the change by retweeting your main account on your secondary accounts for a few weeks or months.
Sound like a lot of work?
If you want help managing your social media (or any other marketing), give United WebWorks a call. We represent local and regional businesses like yours get the most out of their marketing efforts every day. Give us a call at (912) 231-0016 or fill out our contact form.